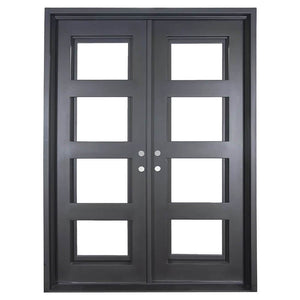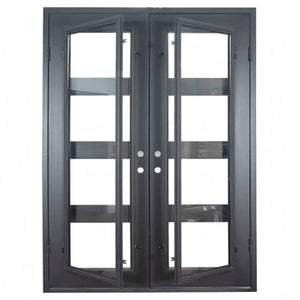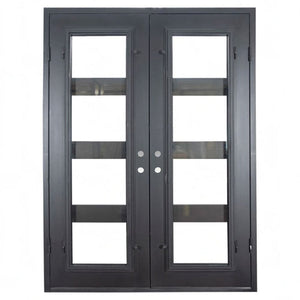 Choose Beauty and Style with Double Flat Doors by PINKYS
Spending time on your home's terrace or in the backyard can recharge your batteries. When the experience is accompanied by a synergy between nature and home design, it's a dream come true. Nirvana.
PINKYS double flat doors celebrate your creative lifestyle with ethereal and breathtaking door designs. Our double flat doors are expertly crafted to make you feel at peace with yourself and your home.
Read on for more details on double flat doors and how they can enhance your home and daily life.
What Are Double Flat Doors?
Compared to regular double doors, double flat doors have a smooth surface on both sides. If you're the owner of a modern home that's also minimalist in nature, double flat doors fit perfectly into that design.
Types of Double Flat Doors
Double flat doors are all about elegance. But selecting the can be confusing. Find your ideal type by choosing from one of the following styles:
Standard
The standard double flat doors open outwards and best serve as an entry to rooms or closets.
Much like standard double flat doors, French doors are hinged on opposite sides. However, they also feature glass panels for added elegance and light.
Dutch doors are special due to their horizontally divided design. You can open the top half or bottom half of these doors separately. Dutch double flat doors are ideal if you appreciate higher accessibility levels and alternating opening options.
Double Flat Doors vs. Double Doors
If you're not a door specialist (and we don't expect you to be one), you may wonder how double flat doors differ from regular double doors.
Double doors come with raised moldings or panels. So if you're looking for a traditional look, regular double doors are the way to go. Double flat doors, on the other hand, are separated and don't feature any panels or moldings. They have a sleeker and more modern design compared to regular double doors.
So which door is better for you?
The answer depends on your personal preference. Both double and double flat doors are highly customizable and come in various sizes.
Benefits of Double Flat Doors
Double flat doors are for creatives. And innovators. And those who can appreciate beauty and elegance.
Here's what double flat doors will bring to your home.
Modernity
Double flat doors are for creatives. And innovators. And those who can appreciate beauty and elegance.
Expressionism
Use your double flat door as a blank canvas: add decorative elements and turn it into your expressive sanctuary.
Freedom
If you need a wider opening in your home, double flat doors can deliver. You can easily move large furniture or home appliances in and out as you please. With double flat doors, there are no limits to your freedom to change your home environment.
Functionality
In terms of home optimization, double flat doors are a major win. They enhance your ventilation system and make the room look brighter. Enjoy the California sun even when you're sipping your morning coffee indoors.
If traffic flow is an issue in your home, it can be solved with double flat doors. Your children and friends can enter and exit at the same time without bumping into each other.
Complement to Interior Design
You'll be thrilled to learn that double flat doors match perfectly with most interior styles. Depending on your current setup, you can achieve any effect you want, add style, elegance, and space, or inspire creativity.
Energy Efficiency
Finally, double flat doors are more energy-efficient than a regular single door that has the same width. Double flat doors are resistant to air leakage, so you're in for significant energy bill savings as well.
Elegance
Finally, double flat doors by PINKYS are your easy upgrade to create a grand point of entry. Your guests will be blown away by the elegance of your space.
Possible Disadvantages
We think that double flat doors are amazing, and we think you will too.
Still, they aren't a perfect match for everyone. If you're set on purchasing double flat doors, you should also be aware of the possible disadvantages of installing them as well.
For starters, you need a wide space to install these doors. If your current home setup can only accommodate single doors, you may need to make structural changes to install a double flat door.
Also, if you have limited mobility or similar physical problems, you may find it more challenging to use the doors. In this case, you may want to consider power-operated doors with an activator system for automatic opening and closing.
Finally, double flat doors may have a high cost attached to them. These highly elegant and high-end doors can come with a premium price tag. If your budget doesn't yet allow it, check with your local installer to find out if they can arrange financing.
Installation
Most double doors install in the same manner, including French, flat, Dutch, and other styles. Fortunately, you don't have to move a finger to install PINKY double doors. We can take care of the process from manufacturing to delivery to setup.
We use all the necessary tools and equipment to install your door in the fastest time possible.
Factors to Consider
Double flat doors can be a major investment, so you want to make the best choice. Take these factors into consideration so the process runs smoothly.
Style
Do thorough research on the best type and style of double flat doors for your home. You can tailor your dream doors to your desired specifications when shopping with PINKYS. Our experts are always ready to share advice, and we're happy to hear your ideas too.
Size
Double flat doors come in numerous sizes (as you can see when you customize your doors on our website). Usually, double-flat solutions are wider than single doors, meaning they require more space. Double-check the available space in your home to make sure double flat doors will work for you.
Material
PINKYS double flat doors are made from high-quality iron. But you can also find other types of materials. Consider your needs, preferences, and current home setup before deciding on the material.
Price
Double flat doors are an investment. Which means you want to choose your wisely. Always make sure service providers give you an accurate quote for materials and installation and are transparent about their pricing.
PINKYS will give you a free quote on the fully customized door solution you select. Your purchase is fully secured with us and carries our guarantee.
Why PINKYS Double Flat Doors Are the Dream Choice
Good taste, a love of innovation, and a creative spirit go hand in hand. PINKYS double flat doors are an ideal match for the discerning homeowner who wants to incorporate all three.
Sophisticated
PINKYS double flats have 90-degree edges and tight corners. They can make guests to your home feel pleased they were invited to step indoors. If you want your home to reach new levels in terms of elegance and sophistication, you can't go wrong with PINKYS double flat doors.
Custom-Made
We are all about delivering personalized solutions to our customers. Hit the "Special Order" button to customize your door in multiple aspects:
Size: Multiple options available, from 61 x 81 inches to 74 x 132 inches

Glass: Nine options from low e-glass, sandblast, rain glass, Flemish glass, aquatex glass, and others
Color: Our doors come in multiple color options such as brushed silver, heavy bronze, oil-rubbed bronze, black, and pewter

Swing: Choose between left- or right-hand out-swing and left- and right-hand in-swing models

Screen: Get doors with a screen for an extra $500

Jamb: A 6-inch jamb is available
For further customization options, send us a message or fill out a short form on our website. We want to help make the entry door or balcony door to your home the best design it can be, one that truly connects with your inner spirit.
Innovative
Our doors celebrate Southern California's sunny climate. They're ethereal, breathtaking, and expansive.
You can bring that palpable energy indoors with one of the double flat doors from our collection.
Durable
PINKYS focuses on crafting custom-made doors that last for ages. Our designs are all made from high-end materials, making this a valuable and long-lasting investment. We make iron doors known for their strength, insulation, and attractive looks.
Minimal Maintenance
You'll love how little maintenance our double flat doors require. The upkeep is easy and hassle-free. You won't need to clean the doors more than once per month, pet and child accidents excluded.
Higher Property Value
Last but not least, PINKYS double flats are a lifetime investment. They increase the value of your property, so if you ever plan on moving, you can ask for a higher price.
Because who wouldn't want a door that accentuates all the elegance and high-end aesthetics of the home?
Transform Your Home/Terrace Entry into a Magical Land
We live in an extraordinary world. So why can't a simple door make a statement that is symbolic of your view of the world? Get your own fully customized PINKYS double flat doors and make your home a showplace.
With so many personalization options, you can upgrade your living space like never before. Share your preferences and ideas in our contact form or give us a call during work hours. We'd be thrilled to get started on your next beautiful upgrade.

Lock in photograph is the Weslock Elegance - Woodward 1. Lock sold separately.
Ships within 1-2 days (Local delivery excluded. Based on PINKYS delivery schedule)